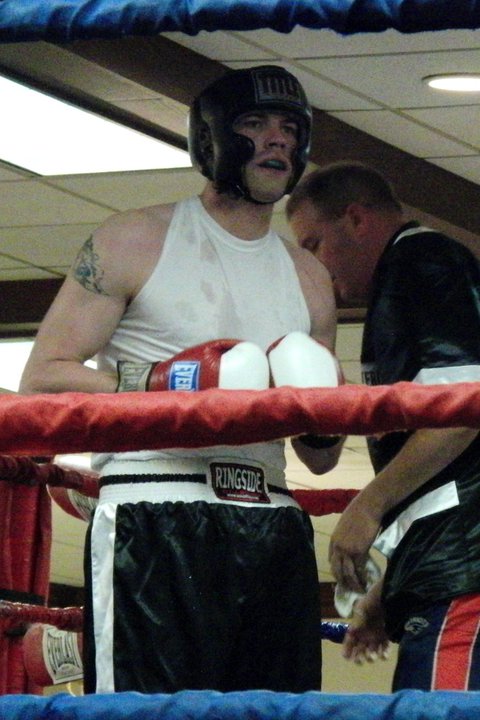 Kevin R. Gerstel, CSCS
617-571-6341
Owner & sole trainer for 13 Strikes Boxing & Fitness, Kevin Gerstel has a formal education & respected certification in the field of exercise science, as well as years of experience as both a trainer and competitive amateur boxer.
Kevin received his Bachelor of Science Degree in Sports Medicine from Merrimack College in 2003, with a concentration in Exercise Physiology. He became recognized as a Certified Strength & Conditioning Specialist (CSCS) by the National Strength & Conditioning Association (NSCA) after sitting for the certification exam in 2004. Kevin has also spent many years training, sparring, competing as an amateur boxer. He is also certified in CPR and First Aid.
After graduating from Merrimack College, Kevin worked as a fitness instructor at Route 1 Racquet & Fitness in Saugus, MA, and later at M.I.T.'s Wang Fitness Center. Desiring the freedom to train clients optimally with a boxing focus, and without the limitations of the traditional fitness club setting, Kevin started his own in-home personal training & boxing instruction business. Kevin also became the boxing instructor at Meara's Martial Arts & Judo Center in Burlington, MA, where he taught both group classes & private sessions. Kevin also trained clients at Sambo 7 in Woburn and at Achieve Taekwondo in Westford, MA. Currently training is done at an excellent private facility in Dracut, MA.
"My primary drive and passion for this business is to provide a place where anyone can acquire the valuable benefits that I have received from boxing being a part of my life. Boxing training is obviously an extraordinary workout, and an excellent way to get and stay in shape. But even more importantly, it can be hugely beneficial psychologically as a healthy release in times of stress.
As far back as I can remember, I was always fascinated with the sport. My father taught me the fundamentals, and how to train like a boxer, at a very young age. I got the bulk of my education in the science & tactics of the sport many years later from the great coach Bobby Bower, who I trained with at a few different gyms, including the Quincy PAL and the South Boston Boxing Club on L Street. Later on I had the fortune of training with Eddie Rivera-Ford at John Ruiz's Quietman Sports in Medford. Eddie has a great mind for fighting and he always gave the no bullshit, tough love needed from a trainer in this brutal sport. Over the years, I competed in only a handful of competitive bouts, but got hundreds, if not thousands of rounds of great sparring as a gym rat, having the privilege to share the ring with national champions, pros, and even kickboxers & MMA athletes.
Since starting my training business, I got to know some truly great boxing trainers, who gave me use of their gyms to have a place to train my clients. Eddie Rivera-Ford from Quietman Sports, Peter Welch in South Boston, and Joey Ramalho from Lowell's West End Gym were among the great boxing minds that were generous enough to help me pursue this passion, and I can't thank them enough.
Now, over 40 years have crept up on me quickly, and a chain of significant acute & chronic injuries have given me the sign that my time for competition is likely over. But I am proud of every time I stepped through the ropes, and I encourage everyone who has even a small part of them that wants to box, to try it. There's never going to be an easier time to start than right now.
If you are up there in years, limited by chronic injuries/conditions, and/or badly out of shape, training at a crowded competitive boxing gym among young active fighters may not be the best way to learn boxing, but here at 13 Strikes Boxing & Fitness, you can legitimately learn how to box, get customized training, undivided attention, & even put it all to the test in our sparring group. This is why I started this business and will continue to run it hands on, until I can't hold them up anymore." -Kevin R. Gerstel, CSCS